Depeche Mode Live-Session online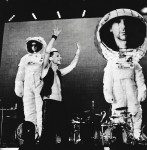 Depeche Mode haben im Rahmen eines Interviews bei der amerikanischen Radiostation Word Cafe fünf Songs live performt. Sie befinden sich derzeit im Stream.
Depeche Mode performen SOTU Songs
Auf der NPR Music Website sind unter dem Link Listen To The Full Session

Peace
Wrong
Personal Jesus
Walking In My Shoes
Come Back
zu hören. Wie immer unterscheiden sich die Liveversionen teilweise recht deutlich von den Studio-Aufnahmen. Bemerkenswert: Dave Gahan trifft bei der wohl floppenden Single Peace den hohen Ton im Refrain erstaunlich präzise. Ansonsten überzeugen besonders das bärenstarke Wrong & Personal Jesus.