'Old School Electrology Vol.1' – diverse Videotrailer online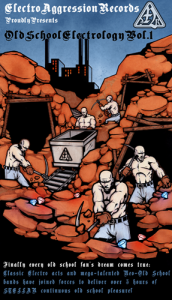 Old School Electrology Sampler. Das umfassende Werk hat sich klassische Electronic Body Music und authentischen Dark Electro auf die Fahnen geschrieben. Nun steht man recht kurz vor der Veröffentlichung und pusht den lang erwarteten Mammut-Sampler mit einigen ausführlichen Videotrailern.
Old School Electrology als Mammutwerk
Es war im Dezember 2009, als der Sampler Old School Electrology Vol.1 angekündigt wurde. Anspruch und Inhalt wurden hier in diesem Artikel dargestellt.
Dem aufwendigen Projekt drohte aus Kostengründen mehrmals das Aus. Also sammelte man Vorbestellungen, bevor das Projekt ins Presswerk geht. Anscheinend naht die Veröffentlichung im Jahre 2011. Beziehen lässt sich der OSE-Sampler derzeit am besten über die Old School Electrology Blogspotseite.
Die vier CDs vereinen einen Großteil der neuen, an klassischer EBM orientierten Generation mit Acts, die unter das Label Authentic Dark Electro fallen. Damit distanziert man sich klar vom aktuellen Hellectro und verweist auf komplexe und düstere Eletroklänge im Stile der frühen 90er.
Der Beitrag von Haujobb läuft bereits seit geraumer Zeit als Stream – Lust auf eine Gänsehaut?
Initiator Nader Moumneh legt nun mit längeren Youtube Promos nach. Es sind keine Videos an sich, sondern Soundsnippets des in dieser Form bisher einmaligen und natürlich längst überfälligen Werks.
OSE Snippets
Teaser: Dark Electro
1. Red+Test- Holy War
2. Brain Leisure- Self Reality
3. Object- Humiliating Procedures
4. Disharmony- Access Points
Teaser: Überblick für Facebook
1. Astma- Honour and Glory
2. Autodafeh- Dog Tag
3. Ondska- Storm
4. tEaR!doWn- Tempting Harlots
5. The Holocaust Humanity- Alive
6. Trial- Brother in Arms–Old School Mission
7. tri-state- avataR (kling klang kHAOS)
8. U.M.M.- Cocktail Molotov
Teaser: Überblick für Myspace (Part III)
1. Armageddon Dildos- Out of Control
2. Sleepwalk- Final Curtain
3. The Blister Exists- For The Squad
4. Venetian Blind- Instead of Tears
5. Total Harmonic Distortion- Reversions/Mutations
Den kompletten Überblick über die Videopromos findet ihr hier.
Old School Electrology Tracklisting (Stand 2011)
Zum Abschluss der aktuelle Stand der teilnehmenden Interpreten (ohne Gewähr):
CD1 – Old School EBM
01) Agrezzior "Statue of Liberty"
02) Astma "Honor and Glory"
03) Darkmen "Take It Back"
04) DRP "Electro Pussy"
05) EkoBrottsMyndigheten "Get Your Fists Up"
06) Ionic Vision "Hate"
07) K-bereit "Blackened"
08) Lescure 13 "Destruktor" (Pouppée Fabrikk Cover)**
09) MachineSoldier "Body Anonymous"
10) Old School Union "Perkele"
11) Ondska "Storm"
12) Orange Sector "Noise (Head Mix)"*
13) Pact of Warsaw "Domination"
14) PP? "Repression (Dental Exilanation Remix)"*
15) Presto Fervant "Bullseye"
16) Serpents "Komm Naeher"*
17) Spark! "Modern Slaves"
18) Synaptic Defect "Electrofreak"
19) T.A.N.K. "Game of Men"
20) UGH…! "Rage Against Trancewhackedgoregalore"
+bonus digital tracks
21) Parade Ground & P. Codenys "Marble Mind"*
22) Container 90 "Bla Bla Bla"**
CD2 – Authentic Dark Elektro
01) Terminal State "Black Salt"
02) IC 434 "Skullwatch (Primal Beats)"
03) Brain Leisure "Self Reality"
04) Amnistia "Pretended"
05) Morgue Mechanism "Simulation"
06) Second Disease "Ecstatic"
07) Necrotek "Revenant"
08) Severe Illusion "My Car Is Burning In Hell"
09) Nordschlacht "The Collective"
10) Pro Patria "H2SO4"
11) Red+Test "Holy War"
12) Object "Humiliating Procedures"
13) tEaR!doWn "Tempting Harlots"
14) Seven Trees "Present Decay"**
15) Putrefy Factor 7 "Confrontation"
16) God Experiment "Shiver"
17) Trial "Brothers in Arms – Old School Mission"*
18) Morticians "Art of Pain"
CD3 Assemblage – Authentic Dark Elektro & Old School EBM
01) To Avoid "Payback"
02) Breathe "Im Raum der Zeit"
03) Disharmony "Access Points"
04) deltaE [Mortal Constraint] "Acceleration"
05) MC1R "Neuropathy"
06) kAlte fArben "Retrospective"
07) The Holocaust Humanity "Alive"
08) Jihad "Seven Skies"
09) yelworC "Teufels Dreizack Part 1"
10) Splatter Squall "The Summoning"
11) One Eye Wanders "Misdiagnosis"
12) Instans "Robot"
13) Collapsed System "Stay Tough"
14) Autodafeh "Dog Tag"
15) A.D.A.C. 8286 "Störtebecker"
16) Neukampf "Duell Duett"
17) NTRSN "The Coming Ends"
18) Tech Nomader "Nomad"
..
+ bonus digital track
19 Kälteidiotie "Old School Addicts"
CD4 Amalgamation – Old School EBM & Authentic Dark Elektro
01 Armageddon Dildos "Out of Control"
02 Digital Factor "Electric Body"
03 Guerrilla "Walk Away"
04 Sleepwalk "Final Curtain"
05 The Blister Exists "For The Squad"
06 Injector "Scream"
07 Haujobb "Letting the Demons Sleep"
08 Venetian Blind "Instead of Tears"
09 Total Harmonic Distortion "Reversions/Mutations"
10 Elite! "So Wie Wir"
11 Kraft "Meine Liebe"
12 Stin Scatzor "Noise in My Stomach"**
13 Frontal "Zeig Mir"
14 tri-state "avataR (kling klang KHAOS)"
15 amGod "Deathrider"
16 U.M.M. "Cocktail Molotov"
17 Kraftakt "Ich Bin Nicht Da"
18 Defecto Nagrobek "Ich War Ein Knabe"
19 BodyFarm "EBM Macht Stark"
20 Page 12 "Season's End"
+bonus digital tracks
21 Mekanik Disorder "Am I Falling?" 4:35
22 Void Kampf "Karmeliet (Uno Mix by Collapsed System)" 4:33 *
All exclusive tracks except:
* exclusive remix
** revamped demo tune never released on cd
OSE Links