Download: Electrozombies – 'Undead & Open-Minded Volume 1'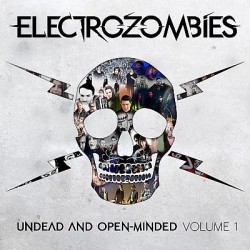 Gleich 27 Titel bietet der der kostenlose Electrozombies Downloadsampler Undead & Open-Minded Volume 1. Ein breit aufgestellter Streifzug durch Synthie-, Electro- und Futurepop mit einigen Ausflügen in wavige Gefilde, also etwas zum Stöbern und Kennenlernen. Bekannte Name sind ebenfalls dabei.
Streifzug in der Samplerwelt
Anlässlich des 5-jährigen Bestehens veröffentlicht Electrozombies in Zusammenarbeit mit mehreren Künstlern eine neue Compilation: Undead & Open-Minded Volume 1, u.a. mit exklusiven Tracks von Parralox, Machinista und Canal Pop – und das als kostenlosen Download.
Dazu kommen einige neue Bands, die ihre Chance nutzen wollen und tatsächlich finden viele lohnenswerte bis ungewöhnliche Beiträge, die nicht zu sehr Gängiges wiederholen. Ob der Sprung nach vorne klappt, entscheidet natürlich der Hörer.
Auf dieser Zusammenstellung tummeln sich sage und schreibe 27 Formationen mit aus den Bereichen Synth-, Electro- und Future Pop sowie einige Dark Wave Projekte.
Einige exklusive Tracks
Enthalten sind ebenfalls 3 Exklusiv-Stücke: Die Band Machinista steuert den Track Dark Heart Of Me in einer Specialversion bei. Parralox bearbeiteten exklusiv den Depeche Mode Klassiker Fools. Und die argentinische Band Canal Pop Feat. Josefina Aufranc ist mit einem bisher unveröffentlichten Track vertreten.
Zusammengestellt wurde Undead And Open-Minded Volume 1 von Thomas Frenken, der 2010 den Video-Blog Electrozombies ins Leben rief. Der hauptberufliche Grafik-Designer ist auch für das Artwork verantwortlich.
Wie immer gilt: Es muss nicht jedem alles gefallen, aber das Stöbern und Entdecken ist das, was bei Erfolg Spaß macht.
Tracklisting & Downloadlink
01. Parralox – Fools (Depeche Mode Cover)
02. Ash Code – Crucified
03. Love? – I Walk Alone (Special Video Edit)
04. Sexy Suicide – Diary Of Moon
05. Psy'Aviah – From Another World (Cyborgdrive Remix)
06. Atomzero – Velocity
07. Model Depose – Particles
08. Twisted Destiny – Love & Hate
09. Machinista – Dark Heart Of Me (Electrozombies Version)
10. Julien-K – Deep Beat Overground
11. Junksista – Secrets
12. Vivien Glass – Honey Bee (Hexa Mix)
13. nTTx – Falls Beautiful
14. The Sweetest Condition – Control
15. Comasoft – Paper Cut
16. Electrogenic – The Deluge
17. Astari Nite – The Boy Who Tried
18. Dust Heaven – Dark Gray (Gary Numan Cover)
19. Marina Massanova – Cyber
20. Controlxoxo – The Quick And The Dirty
21. Cosaquitos En Globo – Lost in This World (Feat Carlos Shaw & Ernesto Romeo)
22. Synthonation – The Saviour
23. Canal Pop – Future Nights (Feat. Josefina Aufranc) (Previously Unreleased Track)
24. Eurotix – The Innocent Years
25. Scarlet Soho – Professionals
26. Train To Spain – BlipBlop
27. Capital X – Family Business
Anspieltipps neben den oben genannten Namen:
Ash Code- Cruzified
Model Depose – Articles
Love? – I Walk Alone (Special Video Edit)
Comasoft – Paper Cut
Electrogenic – The Deluge
Astari Night – The Boy Who Tried
Controlxoxo – Dirty And The Quick
Train To Spain – Blipbop
Capital X – Family Business
Electrozombies Links
zur Electrozombies Homepage
zur Electrozombies Facebookseite