'Hell Yeah!' – die stürmische KMFDM Rückmeldung + Tourdaten 2017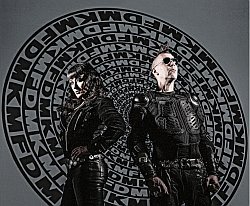 KMFDM melden sich mit einer 5-Track EP Veröffentlichung am 23.06.2017 zurück. Ein Release mit brandneuen Songs, Edits und Remixen. Erhältlich als CD Digipak und in digitaler Form bei earMUSIC kündigt die EP das im August folgende Album an. Viele Livegigs rücken die Band zudem zurück in den Fokus von Medien und Fans. Die KMFDM News und Tourdaten 2017.
Hell Yeah!
Den Ausruf "Hell Yeah!" kennen alte Wrestling Fans noch als Catchphrase von Stone Cold Steve Austin. Und wer Dynamik und Kraft vermitteln will, tut in den USA gut daran, einfach mal an dem so populären Ausruf anzudocken.
Die neue KMFDM EP enthält zwei brandneue Songs: Der Titeltrack ist mit seinem ultra-heftigen Beat und dem zynischen Text – dem Markenzeichen von Sascha Konietzko – sofort als zündende KMFDM-Nummer erkennbar.
Der markante Track Freak Flag wird von Lucia Cifarelli getragen und gilt als Hymne für alle Außenseiter, Freaks und Einzelgänger – für dich und mich. Auf der EP ist der Song als Edit enthalten, in voller Länge wird er auf dem im August 2017 folgenden Album zu hören sein.
Mit dem dynamischen Remix von ATTAK 2017 greifen KMFDM ihr 2002 erschienenes Werk ATTAK/RELOAD auf, während die Lord Of the Lost Version des Titeltracks Hell Yeah! ganz eigene Akzente setzt.
Tracklisting Hell Yeah!
1. HELL YEAH (Album Version)*
2. FREAK FLAG (Edit)*
3. HELL YEAH (Lord Of The Lost Version)
4. ATTAK 2017 (KMFDM Remix)**
5. HELL YEAH (Edit)
KMFDM live 2017
Diesen Sommer eröffnen KMFDM ihre Livesaison auf dem Brutal Assault Festival, CZ, und dem M'era Luna Festival in Deutschland. Im Anschluss spielen sie 6 Shows in Großbritannien, bevor sie zu einer einmonatigen Tour in die größten Städten der USA aufbrechen und als Headliner auf dem Cold Waves Festival in Chicago auftreten.
Tourdaten 2017
EUROPEAN TOUR 2017
10.8.2017 Brutal Assault Festival (CZ)
12.8.2017 M'Era Luna Festival (GER)
05.09.2017 Newcastle – Think Thank (UK)
06.09.2017 Glasgow – St. Lukes (UK)
07.09.2017 Manchester – Ruby Lounge (UK)
08.09.2017 Birmingham – O2 Institute (UK)
09.09.2017 London – O2 Academy Islington (UK)
10.09.2017 Bristol – Fleece (UK)
US TOUR 2017
01.10.2017 Chicago, IL – Metro (Cold Waves VI Festival)
02.10.2017 St. Louis, MO – Delmar Hall
03.10.2017 Indianapolis, IN – The Vogue
04.10.2017 Cleveland, OH – Agora Ballroom
05.10.2017 Falls Church (Washington, DC), VA – The State Theatre
06.10.2017 Philadelphia, PA – Underground Arts
07.10.2017 New York, NY – Irving Plaza
08.10.2017 Allston (Boston), MA – Brighton Music Hall
09.10.2017 Baltimore, MD
11.10.2017 Atlanta, GA – The Masquerade – Heaven
12.10.2017 New Orleans, LA – House Of Blues
13.10.2017 Austin, TX – Mohawk
14.10.2017 Dallas, TX – Gas Monkey Live!
15.10.2017 Houston, TX – White Oak Music Hall
17.10.2017 Tucson, AZ – The Rialto Theatre
18.10.2017 Tempe (Phoenix), AZ – Marquee Theatre
19.10.2017 Las Vegas, NV – Fremont Country Club
20.10.2017 San Diego, CA – House of Blues
21.10.2017 Los Angeles, CA – tbd
22.10.2017 San Francisco, CA – The Regency Ballroom
24.10.2017 Salt Lake City, UT – Metro Music Hall
25.10.2017 Denver, CO – Summit Music Hall
26.10.2017 Omaha, NE – The Waiting Room
27.10.2017 St. Paul, MN – Amsterdam Bar and Hall
28.10.2017 Milwaukee, WI – The Rave II
KMFDM Links