Review: Morrissey – 'Years' Of Refusal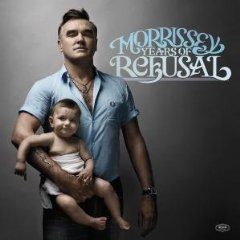 Morrissey – Years Of Refusal Cover
I´m Throwing My Arms Around Paris hieß die typisch klingende Vorabsingle zum neuen Morrissey Album Years Of Refusal. Dieses überrascht hingegen mit schnellen und rockigen Klängen.
Morrissey – Years Of Refusal
Zugegeben – für Hardcorefans der langsamen und melodramatischen Songs werden Teile des neuen Albums gewöhnungsbedürftig sein.
Something Is Squeezing My Skull – der erste Track des Albums – gibt die Richtung gleich treibend vor, die mit dem Highlight Black Cloud eine Fortsetzung findet
Intensive Melodien
Profane Rockmusik fabriziert auch ein älterer Morrissey nicht. Die rockige Attitüde ergänzt er mit eindringlichen und packenden Melodien – selten war das Songwriting so auf den Punkt gebracht, wie auf dem neuen Album.
Es fällt auf, dass die Vorabsingle I´m Throwing My Arms Around Paris bei weitem nicht die beste Nummer des Albums ist.
Streicher und spanische Einflüsse
Generell ist der Sound für Morrissey Verhältnisse recht bombastisch angelegt: Streicher und spanische Gitarren ergänzen das Klangbild.
When I Last Spoke To Carol ist so eine Numer, die den erneuerten Sound mit den typischen Morrissey Melodiebögen kombiniert – beeindruckend.
Pathos und Drama
Natürlich fehlen nicht die selbstverliebten Nummern wie All You Need Is Me und auch pathetisch Textpassagen sind reichlich vorhanden. Nur haben die 'dramatischen' Tracks dieses Mal eine offensive und weniger resignative Ausstrahlung.
Zum Abschluss des Albums folgen dann doch noch ruhige und balladeske Nummern, die den alten Veröffentlichungen nahe stehen.
Fazit: Ein überraschendes, lebendiges und absolut überzeugendes Album. Bereits jetzt ein Highlight 2009.
Wertung: 9 von 10 Punkten (9/10)