Leaether Strip – 'World Molæster' (Vö. Sept. 2018)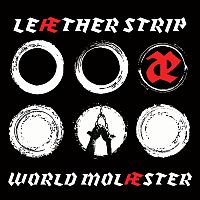 Die Fleißmaschine lebt: Im September fliegen dem Hörer die neuen Tracks von Leaether Strip um die Ohren. Neben Eigenkreationen lebt Claus Larsen auf dem Werk World Molæster auch seine Neigung für Adaptionen aus. Einige Ergebnisse sind bereits jetzt zu vernehmen.
World Molæster
Bereits der frühzeitig rotierende Opener Odium sei allen Leaether Strip und EBM Fans ans Herz gelegt, spielt er doch die jahrelang erarbeiteten Stärken des Dänen aus: Starke Beats, peitschende Bässe, düster-epische Einschübe und eine Songidee, welche salopp formuliert "funzt". Macht Laune auf mehr.
Auf dem Werk selbst ist auch Erdbeermund zu finden. Eine schlüpfrige Adaption des bekannten und ohne Zweifel etwas trashigen Dancehits von Culture Beat. Das Cover ist konsequenterweise in deutscher Sprache vorgetragen. Dazu liegt ein Clip vor:
Mit der Anfangssequenz von My Body Cage (Feat. And The Sky Bled) zielt der Künstler dann auf jüngere Publikumsschichten ab und kombiniert die hellen Sounds mit seinen Trademarks.
Bezug & Formate
Claus Larsen vertreibt das 2018er Album u.a via Bandcamp. Dort lässt es sich nach Release natürlich in Ruhe ausgiebig antesten.
Folgenden Formate werden offeriert:
Strictly Limited Edition Autographed CD – 999 copies (CD + Digital Album)
Very Limited Edition Cassette – 299 copies (Cassette + Digital Album)
Digital Album (Streaming + Download)
Tour Edition – Limited Edition CD in plastic/foldout cover 999 copies world wide – Incl. "Strawberry Lips" (CD in plastic/foldout Cover)
Tracklisting Strictly Limited Edition (999 Einheiten)
01. Odium
02. Erdbeermund
03. World Molæster
04. Cracks So Deep
05. We Wouldn't Change A Single Day
06. See You In Pain
07. The Sound Of Sheffield
08. The Great Wide Closed
09. Have No Fear
10. Your Violence My Gasoline
11. Anxiety
12. His Domain
13. Harvest For The Rejects
14. You Move You Die
15. Drop The Bullshit
16. Where The Poppies Grow
Links zum Album